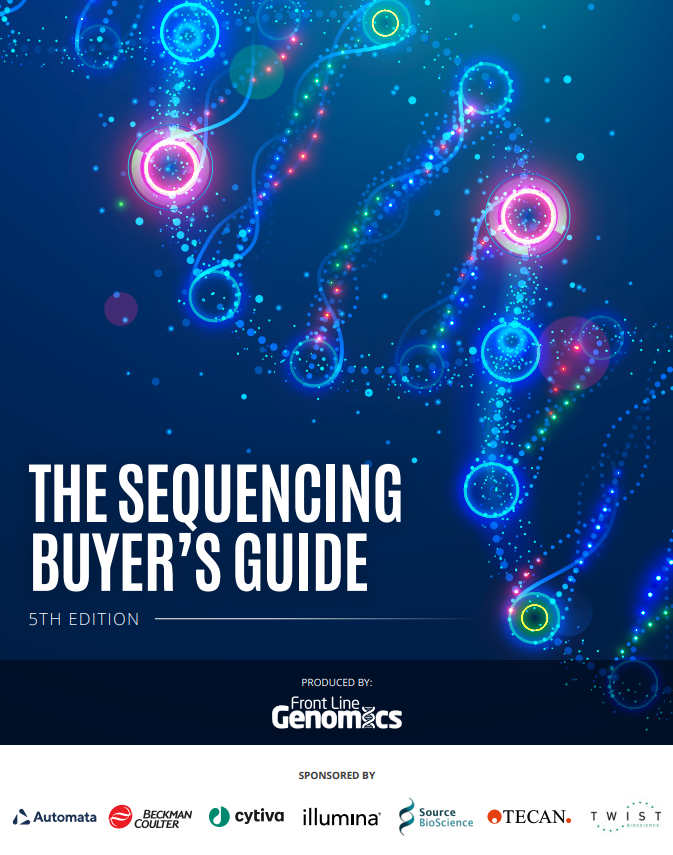 The Sequencing Buyer's Guide: 5th Edition
In recent years, next-generation sequencing (NGS) has evolved from a technology used purely in research settings to being a key feature of the clinical diagnostics pipeline – fully automated sequencing is now available at a lower cost per base and with faster assay times than ever before. But the developments have not stopped there.

The use of sequencing to identify and monitor infectious diseases has blossomed in recent years, bolstered by the recent COVID-19 pandemic. And with more and more people being diagnosed with genetic disorders every day, there has also been increased investment and interest in the use of NGS in areas such as personalised medicine and biomarker-driven drug development. Perhaps the most significant change in the past 12 months has been the lapse of certain core technology patents and the entrance of new players into the sequencing market.

So, join us on a tour of the current sequencing landscape – from sample preparation workflows and new platform releases to single-cell analysis options and data analysis tools. Our experts will help guide you through some of the key questions you might have around sequencing (like how to choose the right technology for your specific application) as well as share their insights on where the field is heading in the future.

What's included in the report?
Exclusive insights from expert contributors
An overview of the latest sequencing options available and up-to-date specifications
Advice from leading names in the field on topics such as how to choose the right sequencing technology for your needs and when to outsource
An exploration of the single-cell and spatial sequencing space alongside other innovative technologies enabling researchers to gain more information from sequencing data – such as multi-omics, optical genome mapping, and AI/ML
Expert analysis of the biggest hurdles facing the field in terms of data analysis, storage and integration
A closer look at the challenges of translating sequencing to the clinic, improving access to sequencing around the world, and increasing diversity
A roundup of what sequencing companies are doing to tackle environmental, social and corporate governance (ESG)
A panel discussion on the latest technologies to enter the sequencing market – will customers ever switch from their favourite short-read platforms?
A look ahead to the future of sequencing

Report contributors include:
Catharine Aquino, Group Leader, Short-read Sequencing, Functional Genomics Center Zurich, ETH Zurich
Shawn Baker, Genomics Start-up Adviser/Investor, SanDiegOmics
Andrew Beggs, Professor of Cancer Genetics & Surgery, University of Birmingham
Tatiana Borodina, NGS Unit Team Leader, Max Delbrück Center for Molecular Medicine
Tiffany Boughtwood, Managing Director, Australian Genomics
Stephanie Byrum, Associate Professor, Department of Biochemistry and Molecular Biology, University of Arkansas at Little Rock
Mathew Chamberlain,

Principal Scientist

, Janssen
Deanna Church, Independent Consultant, Dmchurch Bio, llc  
Eddy de Boer, Researcher and PhD student, University Medical Center Groningen
Graham Freimanis, Head of High-Throughput, Pirbright Institute
Miten Jain, Assistant Professor, Bioengineering and Physics, Northeastern University
Tamas Korcsmaros, Senior Lecturer, Imperial College London
Karoline Kuchenbaecker, Professor of Genetic Epidemiology, University College London
Catalina Lopez-Correa, Chief Scientific Officer, Genome Canada 
Luciano Martelotto, Head of Single-cell & Spatial-Omics Development Lab, Adelaide Centre for Epigenetics
Kerstin Meyer, Principal Staff Scientist, Wellcome Sanger Institute
Jeffrey Moffitt, Assistant Professor, Harvard Medical School
Paola Niola, Senior Applications Specialist, UCL Genomics
Michael Andrew Quail, Principal Scientific Manager, Sequencing R&D, Wellcome Sanger Institute  
John Quackenbush, Professor, Department of Computational Biology and Bioinformatics, Harvard T.H. Chan School of Public Health
David Smith, Emeritus Professor, Mayo Clinic 
Alona Sosinsky, Scientific Director of Cancer, Genomics England
Alex Tamburino, Director of Spatial Transcriptomics and Single Cell Multi-Omics Sequencing, Merck Research Labs
Anna Wilbrey-Clark, Senior Staff Scientist, Wellcome Sanger Institute
Jianguo (Jeff) Xia, Associate Professor, Department of Bioinformatics and Big Data Analysis, McGill University


Contents:
Chapter 1: Preparing for sequencing
Though often overlooked, proper preparation of a sample lays the foundation for any successful analysis. In this chapter, we explore some of the factors that must be considered before settling on the right kit for your NGS needs.

Chapter 2: Tools of the trade: What sequencing options are available?
Tools of the trade covers both the mainstays of the sequencing market, as well as some of the most recent, commercially available sequencing options. Alongside the relevant instrument specifications, we will also compare the short and long-read platforms available and share some expert insights.

Chapter 3: How to choose the right sequencing technology
With the most up-to-date specifications in tow, you're now ready to choose the right sequencing technology for your project. Or are you? Here, we will cover the most important considerations when weighing up different platforms.

Chapter 4: Could outsourcing be a better option?
An NGS service provider can offer many potential benefits over setting up your sequencing capabilities in-house. Here, we will take a closer look at some of these benefits and (hopefully) help you decide if it's the best option for your project.

Chapter 5: Single-cell and spatial sequencing
The past 12 months have brought a surge in the integration of single-cell analysis with spatial technologies. In this chapter, we will explore the capabilities of single-cell analysis, look at the challenges that still need to be overcome in this burgeoning field, and present some of the tools available. Our experts will also share their thoughts on where the field might be heading in the future.

Chapter 6: Innovation in the sequencing space
In this chapter we highlight just a few of the key developments that are enabling researchers to gain more information from sequencing data than ever before. This includes an exploration of the multi-omics space, optical genome mapping, and AI and machine learning.

Chapter 7: Dealing with data
With more genomes being sequenced then ever before, the field is at a serious risk of a data deluge. Here, our experts share their thoughts on the biggest hurdles in terms of data analysis, storage, and integration – they also share their advice for tackling these challenges.

Chapter 8: Accessibility and representation in genomics
This chapter will take a closer look at the challenges around translating sequencing to the clinic, improving access to sequencing around the world, and how we can increase the diversity of genomics data.

Chapter 9: ESG in genomics
Here, we will cover what some of the sequencing companies are doing to tackle environmental, social and corporate governance (ESG) – the latest set of guidelines encouraging industries to follow sustainable practices.

Chapter 10: 2022: The year of the sequencing shake-up?
In the past 12 months we've seen a number of new technologies entering the sequencing space. To get a better handle on how this will impact the field as a whole, we turn to our experts. Here, they discuss the recent advances in the sequencing space, share which of these is exciting them most, and try to predict whether people will ever make the switch away from their favourite short-read platforms.

Chapter 11: The future of sequencing
To round of this guide, we ask our experts to take to their crystal balls and predict what the future sequencing landscape will look like. Will long reads ever replace short reads? Find out what they think…
ABOUT US CONTACT ADVERTISE PRIVACY POLICY

Front Line Genomics Limited is registered in England and Wales. Company Number 10421716, VAT: GB 297 742 548.
Registered Office: Ground Floor, Cromwell House, 15 Andover Road, Winchester, Hampshire, SO23 7BT