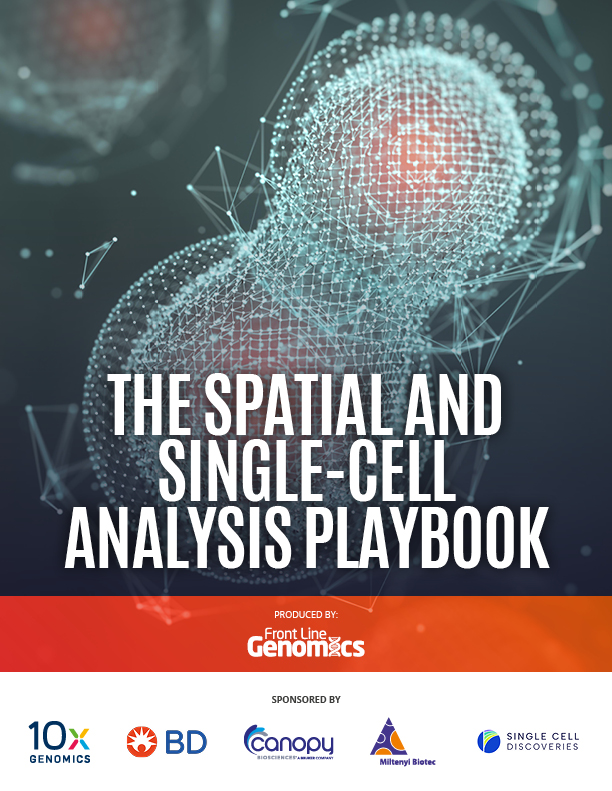 Spatial & Single-Cell Analysis
Playbook
Spatial and single-cell omics is one of the fastest developing areas in genomics, and keeping up is a challenge.

How can anyone hope to keep track?

To address this issue, we are launching the Spatial and Single-Cell Analysis Playbook, a free-to-download resource to help keep track of the vast array of technologies and methodologies in spatial and single-cell biology. This playbook presents a unique resource for those trying to navigate this complicated technological space.
Report contributors include:
Robin Browaeys

,

Team Leader – Bio-IT Support ,

VIB Centre for Inflammation research, Ghent University

Jason D. Buenrostro

,

Associate Professor & Broad Institute Member,

Harvard University & Broad Institute of MIT and Harvard

Jared K. Burks

,

Professor & Co-Director, Flow Cytometry & Cell Imaging Core Facility,

The University of Texas MD Anderson Cancer Centre

Haiqi Chen

,

Assistant Professor,

UT Southwestern Medical Centre

Yanxiang Deng

,

Assistant Professor,

University of Pennsylvania

Silvia Domcke

,

Affiliate Assistant Professor, Dept. of Genome Sciences,

University of Washington &

Associate Director, Head of Human Genomics,

Gordian Biotechnology

Lukas Heumos

,

PhD Candidate, Fabian Theis Lab,

Institute of Computational Biology, Helmholtz Munich

Mai Chan Lau

,

Assistant Principal Investigator,

A*STAR's Bioinformatics Institute (BII) and Singapore Immunology Network (SIgN)

Mohammad Lotfollahi

,

Scientist,

Helmholtz Munich/Welcome Sanger institute &

Director of Machine Learning,

Relation Therapeutics

Luciano Martelotto

,

Associate Professor & Lab Head, Single Cell and Spatial-Omics Laboratory,

University of Adelaide, Australia

Catia Moutinho

,

Founder & Scientific Advisor,

The Single-Cell World

Linda Orzolek

,

Director, Single Cell & Transcriptomics Core,

Johns Hopkins University

Tancredi Massimo Pentimalli

,

PhD Student, Nikolaus Rajewsky Lab,

Berlin Institute for Medical Systems Biology (BIMSB),

Max-Delbrück-Centrum (MDC), Berlin School of Integrative Oncology (BSIO), Charité – Universitätsmedizin Berlin

Micha Sam Brickman Raredon

,

Research Group Leader Departments of Anaesthesiology, Pulmonary, Critical Care & Sleep Medicine and Immunobiology,

Yale School of Medicine

Andrew Russell

,

Postdoctoral Fellow, Fei Chen Lab,

Broad Institute of MIT and Harvard
Azucena Salas

,

Inflammatory bowel disease Group leader,

Fundació de Recerca Clínic Barcelona-IDIBAPS, Hospital Clínic Barcelona

Anna Schaar

,

PhD Candidate, Fabian Theis Lab,

Institute of Computational Biology, Helmholtz Munich

Denis Schapiro

,

Research Group Leader,

Heidelberg University Hospital

Emily Stephenson

,

Senior Research Associate, Haffina Lab,

Newcastle University

Jovan Tanevski

,

Research Area Leader, Saez-Rodriguez Group,

Institute for Computational Biomedicine, Heidelberg University and Heidelberg University Hospital

Fan Zhang

,

Assistant Professor,

University of Colorado School of Medicine
Report Contents:

Chapter 1: Looking into the Past. Single-cell and spatial biology: a history
This first chapter covers the key developmental milestones for both single-cell and spatial technologies and look at attempts to merge these technologies to achieve the best of both worlds.
Chapter 2: What's New. An overview of the latest commercial technology developments
This chapter will give an update on the recent technologies from the key commercial players, highlighting where improvements have been made and the new opportunities these technologies offer.
Chapter 3: Size Matters. Single-cell and spatial, multiplex and multi-omics
This chapter will cover some of the biggest initiatives in single-cell biology as well as the unique problems that arise from working with experiments at vast scale, specifically how to handle single-cell atlases and multiplexed and multi-omics data.
Chapter 4: Friendly Neighbourhood Cells. Cell-cell communication and the cell microenvironment
In this chapter, we will look at the tissue microenvironment and how spatial biology is taking us beyond cell types to help us look at cell neighbourhoods and niches. We will also look at another burgeoning area of analysis, cell-cell communication.
Chapter 5: Beyond the Genome. Single-cell and spatial epigenomics
This chapter will cover advances in single-cell and spatial epigenetics and how up-to-date methods are allowing researchers to spatially visualise epigenetic profiles alongside transcriptomics in single cells.
Chapter 6: Bedside Benefits: Single-cell and spatial biology in clinical practice
The clinical benefits of single-cell and spatial technologies are clear but integrating them into routine practice is still challenging. This chapter will cover how single-cell methods can be translated to achieve a clinical benefit and the promise of spatial biology for precision medicine.
Chapter 7: Community Discussions. AI, benchmarking and what is a cell type?
Using expert contributions and insights, the penultimate chapter of the report will cover the hot topics in the single-cell and spatial space. What is the promise of AI? How should we define a cell type? How do we find a gold-standard for this plethora of methods?
Chapter 8: Glimpsing the Future. What might single-cell and spatial look like in 15 years' time?
Given that the 15-year anniversary of single-cell transcriptome sequencing is just around the corner, we thought we would challenge some experts in the field with the question: What do you think single-cell and spatial methods will look like in 15 years' time?
ABOUT US CONTACT ADVERTISE PRIVACY POLICY

Front Line Genomics Limited is registered in England and Wales. Company Number 10421716, VAT: GB 297 742 548.
Registered Office: Ground Floor, Cromwell House, 15 Andover Road, Winchester, Hampshire, SO23 7BT