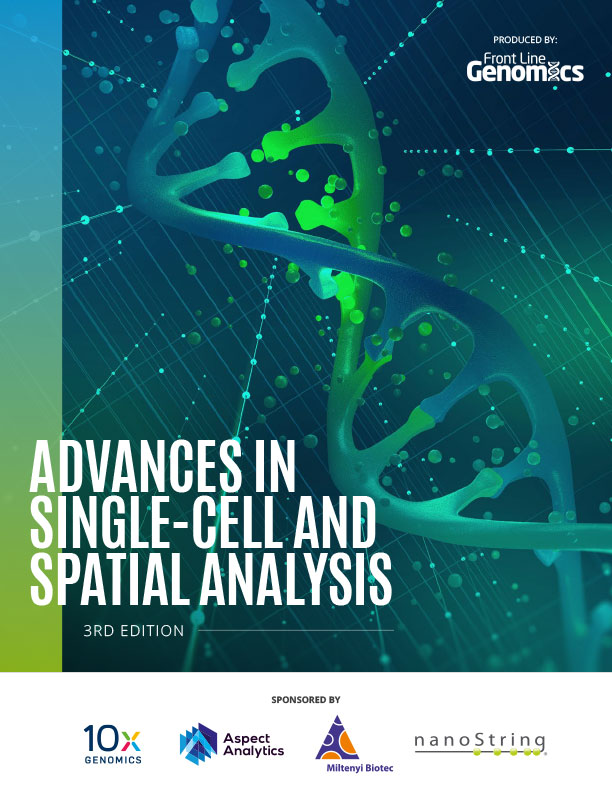 Advances in Single-Cell & Spatial Analysis – 3rd Edition


Single-cell sequencing and analysis reveals a whole world of information contained in each individual cell. Spatial technologies allow that cellular information to be mapped back to its original tissue context. The past 12 months have seen a surge in the integration of these two rapidly evolving technologies, allowing researchers to study biology and disease like never before.

In our latest report, we explore the recent advances in single-cell and spatial analysis and examine how these two high-resolution technologies are becoming more and more integrated.
What's included in the report?
Exclusive insights from expert contributors
Case studies on single-cell proteomics and cancer diagnosis using spatial transcriptomics
A panel discussion on the latest developments in single-cell and spatial analysis
Interviews about single-cell temporal analysis, single-cell and spatial in drug development and the future of single-cell and spatial
A round-up of the most impactful literature of the past 12 months
An overview of the latest options available for technologies and data analysis
The applications, current challenges and what's next for single-cell and spatial analysis
Report contributors include:
Alastair Lamb, Cancer Research UK Clinician Scientist, University of Oxford
Alex Tamburino, Director of Spatial Transcriptomics and Single Cell Multi-Omics Sequencing, Merck Research Labs
Alison Finall, Clinical Academic Pathologist, Swansea University
Andreas Mund, Associate Professor, Novo Nordisk Foundation Center for Protein Research (University of Copenhagen)
Anna Wilbrey-Clark, Staff Scientist, Wellcome Sanger Institute
Christoph Kuppe, Medical Doctor, RWTH Aachen University
Daniel Schraivogel, Research Staff Scientist, European Molecular Biology Laboratory (EMBL)
Fei Chen, Core Institute Member, Broad Institute of MIT and Harvard
Jeffrey Moffitt, Assistant Professor, Harvard Medical School
Kerstin Meyer, Principal Staff Scientist, Wellcome Sanger Institute
Linlin Chen, Graduate Student, California Institute of Technology
Luciano Martelotto, Head of Single-cell & Spatial-Omics Development Lab, Adelaide Centre for Epigenetics
Mathew Chamberlain, Senior Scientist, Janssen
Nikolai Slavov, Associate Professor, Northeastern University
Orane Guillaume-Gentil, Senior Scientist, ETH Zurich
Rebecca Mathew, Principal Scientist, Merck Research Labs
Sanja Vicković, Core Faculty Member and Director, Technology Innovation Lab, New York Genome Center
Wanze Chen, Principal Investigator, Shenzhen Institute of Advanced Technology
ABOUT US CONTACT ADVERTISE PRIVACY POLICY

Front Line Genomics Limited is registered in England and Wales. Company Number 10421716, VAT: GB 297 742 548.
Registered Office: Ground Floor, Cromwell House, 15 Andover Road, Winchester, Hampshire, SO23 7BT