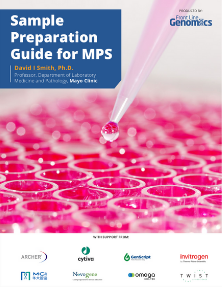 Download Report
Sample Preparation Guide for MPS
Sample Preparation Guide for MPS
Advancements in next-generation sequencing or massively parallel sequencing (MPS), have transformed scientific research. While sequencing instruments form a fundamental part of the sequencing revolution, they are not the only component of this ecosystem that enable MPS.
No matter how good your sequencing is, if you don't optimise the isolation and preparation of your samples, the quality of you sequencing output is already compromised. Therefore, every little tweak and improvement to your process could save you a lot of money!
This free guide – written by David Smith, Emeritus Professor of the Mayo Clinic – will take you through the entire process of nucleic acid isolation and library preparation for short-read and long-read whole genome sequencing, targeted sequencing, plus the various forms of RNAseq.
Chapters
With sample preparation there are endless choices and many companies you could buy from making the decision all that more difficult! This guide covers everything you need to know about sample preparation to help make these decisions a little bit easier!
Chapter One: Isolation of Nucleic Acids
The first chapter focuses on the very first step required prior to sequencing. It provides guidance for different approaches depending on the sample source.
Chapter Two: Generation of Different MPS Libraries: Whole Genome Sequencing (WGS)
This chapter covers both short-read and long-read sequencing library prep, from a range of established and new approaches.
Chapter Three: Generation of Different MPS Libraries: Targeted Sequencing
This chapter discusses library preparation for more targeted sequencing approaches, when WGS is simply too much sequencing!
Chapter Four: Generation of RNAseq libraries
The final chapter describes several different techniques for RNAseq library preparation, plus a brief note on CHIP-Seq.
Author
Professor David Smith is the Chairman of the Technology Assessment Group at the Mayo Clinic for Individualised Medicine. Smith is also an expert in next-generation sequencing technologies and his group use these technologies to address key questions. Specifically, his team study regions of genomic instability and also the role of human papilloma virus in the development of different cancers.
ABOUT US CONTACT ADVERTISE PRIVACY POLICY

Front Line Genomics Limited is registered in England and Wales. Company Number 10421716, VAT: GB 297 742 548.
Registered Office: Ground Floor, Cromwell House, 15 Andover Road, Winchester, Hampshire, SO23 7BT, UK