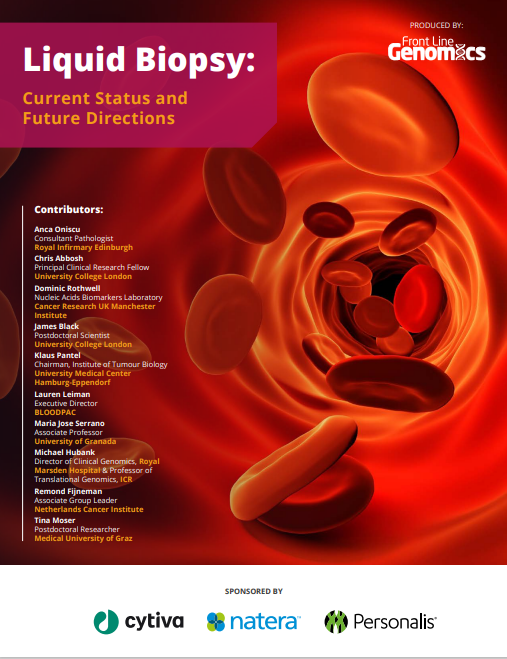 The Liquid Biopsy Report- Current Status and Future Directions


The Liquid Biopsy Report- Current Status and Future Directions
The gold standard for cancer diagnosis remains
imaging-based. Although some screening programmes
are enabling the earlier diagnosis of cancer, nobody can
deny the pull of the "liquid biopsy".
Over a decade since its inception, the ability to use
non-invasive methods to analyse tumour material has
transformed the vision of future cancer care. A better
patient experience. Real-time monitoring. Early detection.
It's fair to say liquid biopsies hold a lot of promise for the
oncology field, but where are we now? Why are routine
blood tests not already the gold standard for cancer
screening programmes?
The answer is not simple. A lot of effort is being made to
push liquid biopsies into the clinic.
This report will highlight the key features of liquid biopsies,
their potential applications in oncology and the hurdles we
need to overcome to see the next era of cancer care come to
fruition.
We would like to give a special thanks to our contributors for their help and guidance in putting this report together:
Anca Oniscu, Consultant Pathologist, Royal Infirmary Edinburgh
Chris Abbosh, Principal Clinical Research Fellow, University College London
Dominic Rothwell, Nucleic Acids Biomarkers Laboratory, Cancer Research UK Manchester Institute
James Black, Postdoctoral Scientist, University College London
Klaus Pantel, Chairman, Institute of Tumour Biology, University Medical Center Hamburg-Eppendorf
Lauren Leiman, Executive Director, BLOODPAC
Maria Jose Serrano, Associate Professor, University of Granada
Michael Hubank, Director of Clinical Genomics, Royal Marsden Hospital & Professor of Translational Genomics, ICR 
Remond Fijneman, Associate Group Leader, Netherlands Cancer Institute
Tina Moser, Postdoctoral Researcher, Medical University of Graz
ABOUT US CONTACT ADVERTISE PRIVACY POLICY

Front Line Genomics Limited is registered in England and Wales. Company Number 10421716, VAT: GB 297 742 548.
Registered Office: Ground Floor, Cromwell House, 15 Andover Road, Winchester, Hampshire, SO23 7BT