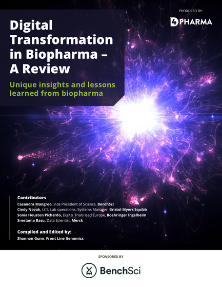 Download Report
Digital Transformation in Biopharma – A Review
Digital Transformation in Biopharma – A Review
Over the last three decades, the cost of drug R&D has increased by ten-fold. As a result, biopharmaceutical companies are looking for new ways to approach modern day drug hunting. The ongoing COVID-19 pandemic has been a catalyst for many organisations to embrace the opportunities that digitisation brings.
D4 Pharma's report 'Digital Transformation in Biopharma – A Review' provides unique insights and lessons learned from biopharma in this digital revolution. This report highlights how digital strategies can improve R&D, and how the companies that are adopting these strategies are increasing efficiencies within their organisations and dealing with emerging challenges.
What's inside?
Chapter 1: Why be a digital pharma player? A discussion of the motivations behind digitisation at scale and why it is important to keep up.


Chapter 2: Increasing velocity in preclinical R&D. In this chapter, we focus on how preclinical R&D represents a huge opportunity to improve productivity challenges.


Chapter 3: Automation in drug discovery. This chapter covers ways in which modern automated technology can transform the R&D lab into the lab of the future – from wet lab pipetting techniques to LIMS.


Chapter 4: Harnessing AI/ML for R&D. AI and ML are transforming the industry. In this chapter, the role of AI and ML in drug discovery are explored as well as the challenges to its widespread adoption.


Chapter 5: Digitising clinical trials. Clinical trials are changing. This chapter will look at how digitisation is impacting clinical trials – from data collected via wearables to increasing patient engagement through communication channels.


Chapter 6: Harnessing data and analytics at scale. An exploration of the various ways pharma are looking to transform the way they analyse data.


Chapter 7: Grand challenges to adoption. Despite the promise of digitisation, several challenges remain. This chapter highlights the challenges to adoption and these are being addressed by pharma now.


Chapter 8: The path towards digital pharma R&D. A summary of the digital path ahead and what this means for pharma R&D.
Contributors:
Cindy Novak, LCS, Lab operations, Systems Manager, Bristol Myers Squibb


Sonia Houston Pichardo, Digital Trials lead Europe, Boehringer Ingelheim


Sreetama Basu, Data Scientist, Merck


Casandra Mangroo, Vice President of Science, BenchSci
ABOUT US CONTACT ADVERTISE PRIVACY POLICY

Front Line Genomics Limited is registered in England and Wales. Company Number 10421716, VAT: GB 297 742 548.
Registered Office: Ground Floor, Cromwell House, 15 Andover Road, Winchester, Hampshire, SO23 7BT, UK