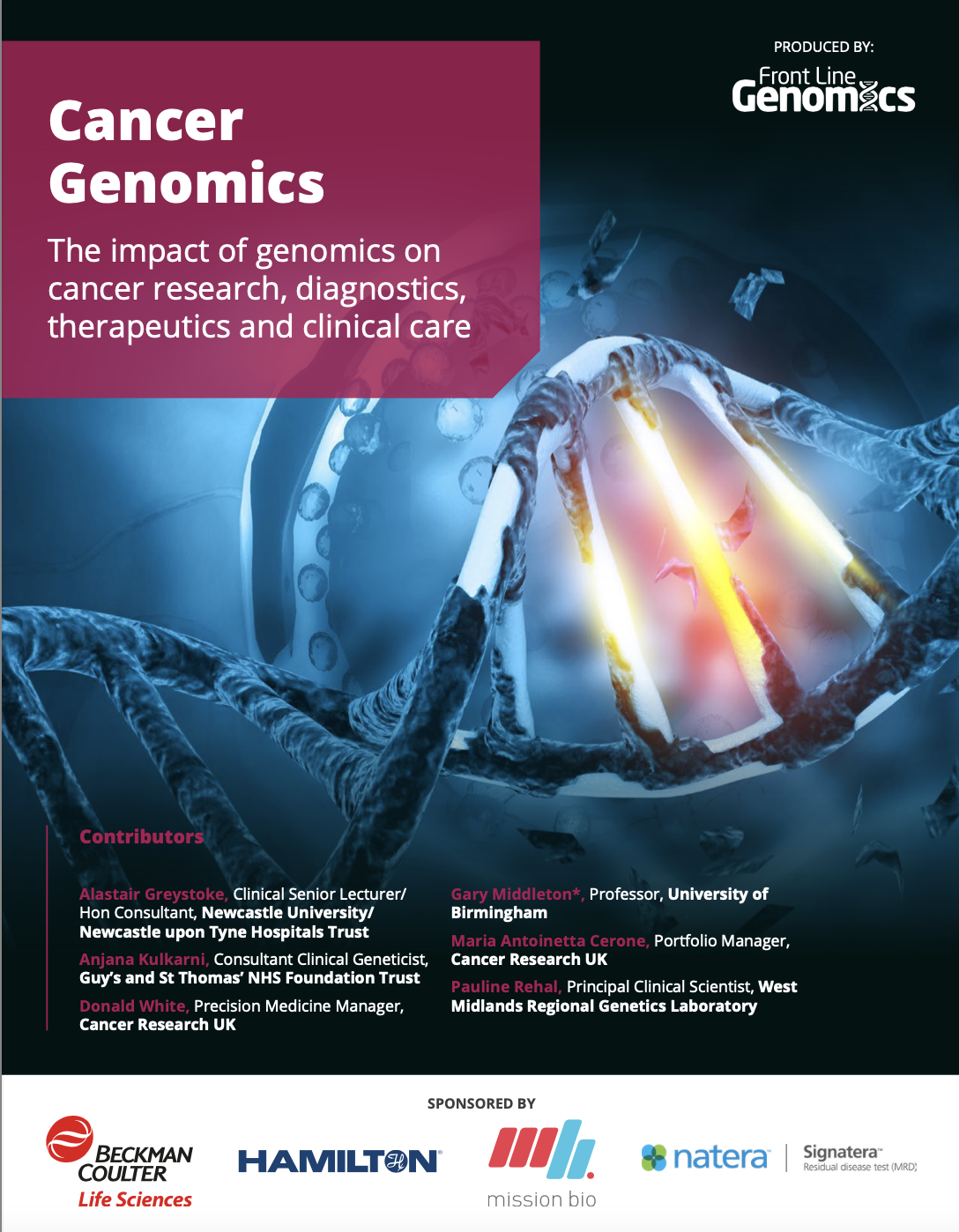 Cancer Genomics: The impact of genomics on cancer research, diagnostics, therapeutics and clinical care
Cancer Genomics: The Impact of Genomics on Cancer Research, Diagnostics, Therapeutics and Clinical Care
Genomics research has been rapidly transforming our understanding and ability to treat cancer. Today, novel techniques are enabling the development of tailored precision drugs in the clinic and benefitting patients around the world.

This report will provide you with:
An introduction to how cancer genomics influences cancer biology

An overview of the challenges associated with translating cancer genomics research into clinical implementation

Insights into the current status and future directions of clinical cancer genomics and precision oncology
Report contributors include:
Alastair Greystoke, Clinical Senior Lecturer/Hon Consultant, Newcastle University/ Newcastle upon Tyne Hospitals Trust

Anju Kulkarni, Consultant Clinical Geneticist, Guy's and St Thomas' NHS Foundation Trust

Donald White, Precision medicine manager, Cancer Research UK

Gary Middleton, Professor, University of Birmingham

Maria Antoinetta Cerone, Portfolio Manager, Cancer Research UK

Pauline Rehal, Principal Clinical Scientist, West Midlands Regional Genetics Laboratory
Report Content:
Chapter 1: Cancer biology
This chapter highlights cancer as a disease of the genome and it explains our growing understanding of the influence that genomics has on cancer biology, including:
- Cancer genome evolution
- The tumour microenvironment
- Large-scale projects that enable cancer genomics research, including The Cancer Genome Atlas
Chapter 2: Enabling technologies
This chapter highlights some of the enabling technologies that help to elucidate cancer research, including single cell analysis, spatial transcriptomics, genome editing techniques and more.
Chapter 3: Cancer Diagnostics
This chapter highlights the status of genomics in cancer diagnostics, including liquid biopsies, and how this can aid in the transformation of cancer care.
Chapter 4: Precision Oncology
This chapter highlights the origins of precision oncology and what it promises from a clinical perspective.
Chapter 5: Challenges and future directions
Genomics has the power to enhance our understanding of cancer and positively influence our approach to clinical cancer care. However, reaching the full potential of cancer genomics still remains a challenge.
This chapter highlights these difficulties and presents the future directions of cancer genomics, from research, translational and clinical implementation.
ABOUT US CONTACT ADVERTISE PRIVACY POLICY

Front Line Genomics Limited is registered in England and Wales. Company Number 10421716, VAT: GB 297 742 548.
Registered Office: Ground Floor, Cromwell House, 15 Andover Road, Winchester, Hampshire, SO23 7BT