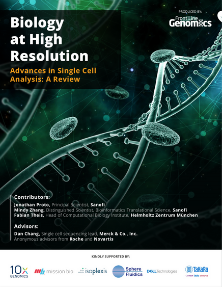 Download Report
Biology at High Resolution – Advances in Single Cell Analysis: A Review
Biology at High Resolution – Advances in Single Cell Analysis: A Review
After being voted Nature's 'Method of the Year' in 2013 and 2019, it is not surprising that researchers are increasingly turning to single cell and spatial technologies to understand the heterogeneity that is driving complex diseases.
In this report, we catch up with global researchers to compile the lessons learned from the implementation of the latest technologies, discuss the clinical applicability of single cell analysis from a biopharmaceutical perspective and share some examples of the exciting insights single cell analysis has delivered.
Chapters
Chapter 1: Applications of single cell sequencing in biomedical research

Chapter 2: The advent of single cell proteomics

Chapter 3: Single cell data analysis – challenges and bottlenecks

Chapter 4: Lessons learned from implementation

Chapter 5: The future of single cell analysis
Thank you to all our contributors and advisors for their help and support in producing this report.
Contributors:
Jonathan Proto, Principal Scientist, Sanofi
Mindy Zhang, Distinguished Scientist, Bioinformatics Translational Science, Sanofi
Fabian Theis, Head of Computational Biology Institute, Helmholtz Zentrum München
Advisors:
Dan Chang, Single cell sequencing lead, Merck & Co., Inc.
Anonymous advisors from Roche

and

Novartis
ABOUT US CONTACT ADVERTISE PRIVACY POLICY

Front Line Genomics Limited is registered in England and Wales. Company Number 10421716, VAT: GB 297 742 548.
Registered Office: Ground Floor, Cromwell House, 15 Andover Road, Winchester, Hampshire, SO23 7BT, UK